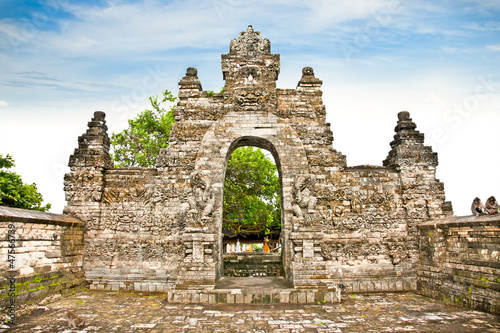 The famous Uluwatu temple in the exotic southern town of Uluwatu is a Balinese Hindu temple. The temple is popular for the breathtaking view it offers of the sunset over the Indian Ocean. This temple is part of the Sad Kahyangnan, which is a large group of Bali temples. Situated about 80 meters above sea level, the temple is surrounded by a small dry forest.
The temple had been significantly expanded during the Javanese age in the 11th century by Empu Kuturan from the small temple that existed back in the day. More remarkable than the history of it, is the location. It's perched on top of steep cliff, below which the roaring Indian Ocean paints a beautiful picture.
You are advised to be properly dressed when visiting the premise. Although you would be free to walk on the temple grounds at any time the main courts can only be entered when rituals are being performed. You are advised to be mindful of the monkeys that wonder around owing to the patch of greenery around this ancient temple. Although the temple is not as rich in its architecture as the other temples in the area, this beautiful location is a must visit for the amazing scenery that awaits you at the top.
Every Bali spa resort offers comfortable and reasonable accommodation to the soaring number of travellers each year to this exotic coastal town. However if you are on the lookout for a Bali luxury spa resort that will leave you with beautiful memories of your vacation to the east, COMO Shambhala Estate Bali is an ideal accommodation choice. Star class service standards and the elegant ambience of the hotel truly transform you in to a soothing relaxation away from the hustle and bustle of city life while views of the turquoise Indian Ocean calm your senses.
For a gorgeous day, admiring the natural splendour that surrounds this part of Bali, visiting ancient monuments and surfing in the inviting waters that lie beneath the temple premise, head over to Uluwatu, where the sun shines a little more and the grass is always green.
Umanga Kahandawaarachchi is a passionate travel writer who writes under the pen name, Maggie Tulliver. Her field of writing covers a wide array of content and articles related to travel and hospitality industry. Google+
Related posts