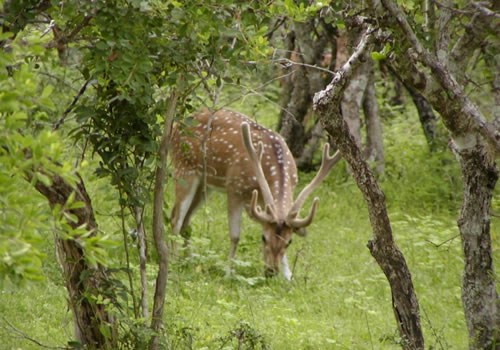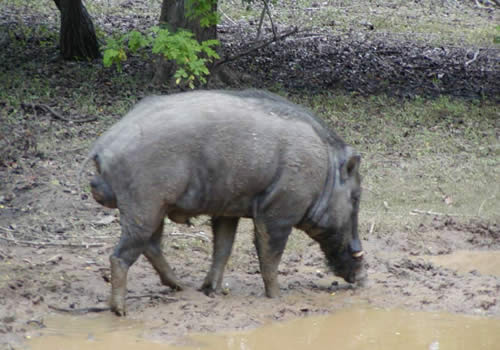 Famous for its year round herds of Asian elephants Udawalawe National Park offers the best opportunity to see them in their natural habitat. The 119 sq mile park is the ideal home for elephants as they have a perennial water source in the large man made Udawalawe reservoir that is situated within the park; and although parts of the park are located in Sri Lanka's Dry Zone the seasonal rainfall and the Walawe river continuously top up this large body of water. Thereby an ideal habitat is created for the elephants with water available throughout the year and the surrounding grasslands providing ample fodder for the large herd. Although 500 elephants are said to roam here, about 250 elephants are believed to be permanent residents. This is attributed to the elephant proof fence that runs along the perimeter of the park keeping them in. The relatively flat terrain of the park allows wonderful views of whole groups of elephants, the old and the young, feeding, playing in the water, at rest under trees and just going about their business. The best time to view the elephants is from 6.30 am to 10 am (it is too hot even for elephants after that) and from 4 pm to 6.30 pm before the light fades.
The grasslands, marshes and forests of the park are also home to 43 species of mammals including sambar, spotted deer, wild boar, water buffalo, toque macaque, common langur, jackal, leopard, small mammals such as various types of civet cats, mongoose, mice and rats among others. The 184 species of avifauna are a bird watcher's dream and comprise of water birds, warblers, birds endemic to the dry zone such as jungle fowl, several varieties of hornbill, osprey and others. There are also 21 species of fish, 12 amphibians and 33 reptiles including snakes and 135 species of butterflies.
The Udawalawe Elephant Transit Home takes in abandoned calves that are released into the park once they are able to fend for themselves. Elephant safaris in open topped 4WD vehicles are a popular way to view the wildlife here.
Wake up and fall asleep to the sound of waves meeting the shore, enjoy wonderful ocean views from a comfortable and contemporary selection of rooms at Jetwing Tangalla Bay, one of the few Sri Lanka hotels deep in the country's southernmost coastal area. Enjoy the many excellent amenities and facilities at this Sri Lanka beach resort that include an infinity edge outdoor pool with gorgeous views of the Indian Ocean and unspoilt surroundings, innovative dining options, privacy in a tranquil setting and warm and friendly service.
Related posts